At the start of 2023, BS/2 released the latest iteration of their ATMeye.iQ software labeled the New Generation. The system has been on the market for more than two decades and is valued primarily esteemed for its dependability and high security level.
This upgraded product boasts all its predecessor's top features while introducing new benefits. Now, security officers, technical support specialists, and dispute managers have access to the software via a web browser. Moreover, they can search for photos and videos of specific transactions, remotely view ATM screens, receive notifications via different communication channels, and generate customized analytical reports.
A wide range of banks use the solution, including those in Europe, the Middle East, US as well as Asia and Africa. More than 82,000 devices worldwide have been installed with this software.
We are proud to present the 8 crucial features of ATMeye.iQ New Generation. These benefits can help banks streamline their dispute resolution processes, manage ATM fleet, and provide comprehensive device security.
Dispute Resolution in 1 minute
These are the most common reasons for contacting customer support when the ATM fails to dispense money or only dispenses a part of the requested amount. Whether the client's claim is true or not is typically verified by the bank during the investigation process. This can occur within a few days or up to a week after the incident. However, with the ATMeye.iQᴺᴳ system, dispute resolution between the bank and the client can be resolved in just one minute.
With the security and dispute resolution system, the ATM activity of all customers is captured, and event details are available without extra CIT visit.
It becomes even more complicated if several clients apply with problems of unsuccessful withdrawals simultaneously, while the ATM's cash balance does not match the declared amount. However, the updated functionality of ATMeye.iQᴺᴳ can restore the sequence of events, allowing banks to quickly resolve customer complaints.
To find a specific transaction using ATMeye.iQᴺᴳ, a dispute manager simply needs to enter a masked customer card number, device ID, or expected date of the transaction. The system will display all the necessary photo or video data about ATM transactions.
ATMeye.iQᴺᴳ captures every step of a transaction, from inserting a card and entering a PIN to withdrawing cash. This level of detail ensures fast bank responses, leaving customers satisfied with the results.
The system also offers flexible reporting options allowing dispute managers to create customized reports with just a couple of clicks. This makes it easier to collect all the necessary information and evidence for effective dispute resolution.
The Latest Web Technologies in Action
ATMeye.iQᴺᴳ users can securely access the system through a web browser, without installing desktop applications that could overload the system. All updates will be performed on the server rather than on each user's device, thereby saving banks time and money.
The distribution kit includes pre-configured software modules and databases, making deployment an effortless process on a remote server. This can be done in just a few minutes and does not require specific skills. Additionally, ATMeye.iQᴺᴳ can be implemented on both local and cloud servers (Google, Amazon, etc.).
ATMeye.iQᴺᴳ is compatible with various ATM brands, such as Diebold Nixdorf, NCR, Hyosung, etc. All types of cameras are supported, including those installed by the manufacturer, as well as Web, IP, and DVRs. This means that if a bank already has video surveillance cameras in operation (including external ones), they can be easily connected to ATMeye.iQᴺᴳ.
Notifications About Incidents
According to a study by ATM Manufacturers Association (ATMIA), self-service devices are attacked more than 1 000 times each month worldwide. These incidents include not only thefts and frauds but also those using hacking tools or explosives.
ATMeye.iQᴺᴳ allows for the connection of various sensors such as shock, drilling, gas, and temperature sensors. When an ATM is attacked, these sensors send an instant alarm, notifying security personnel via selected channels.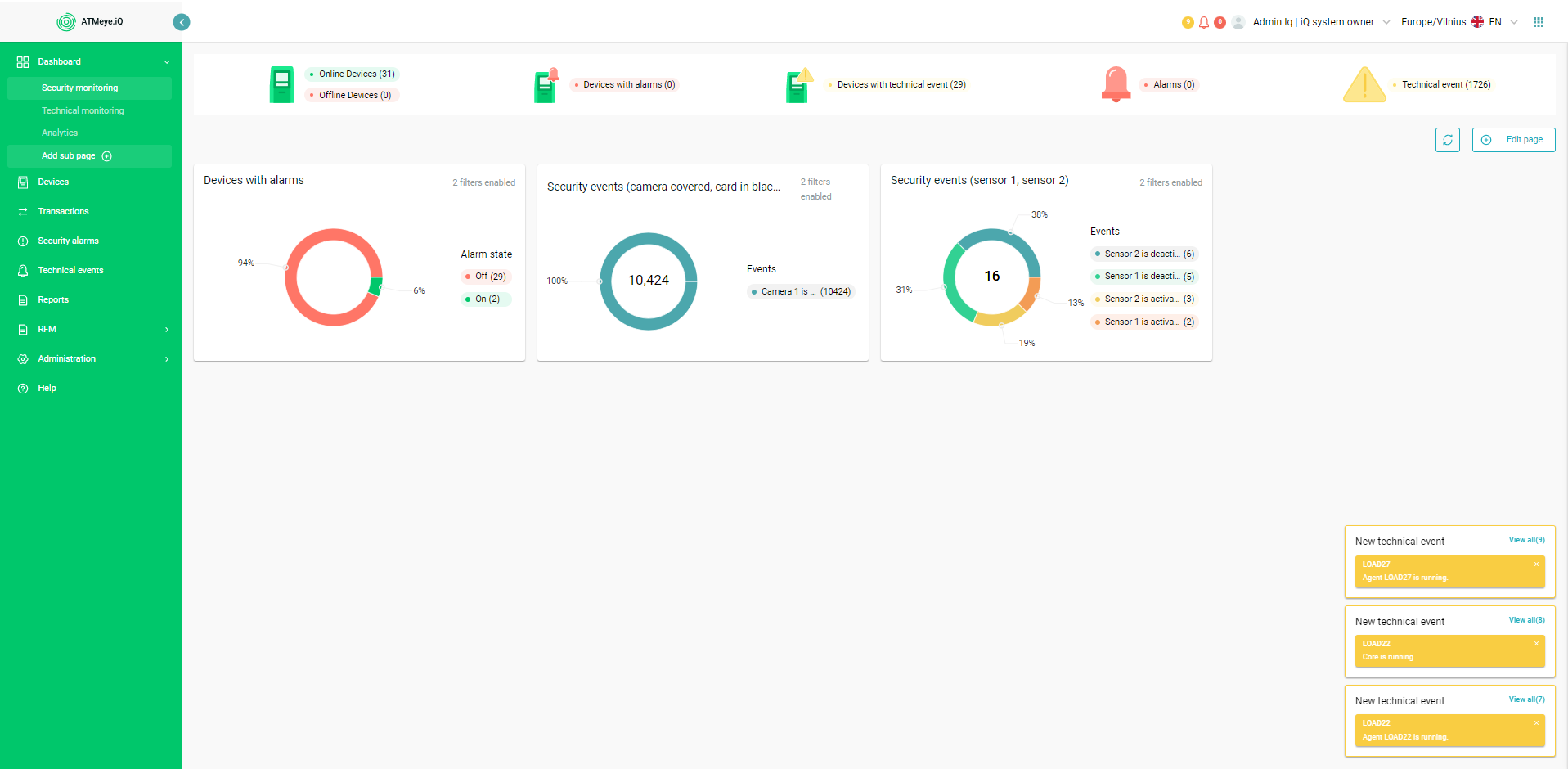 By default, event messages appear as pop-up windows on the dashboard. However, in the latest version of ATMeye.iQᴺᴳ, developers have included additional notifications via messengers and email, making sure that all stakeholders receive information about the incident through convenient communication channels as soon as possible.
Remote Control for ATM Fleet
The Remote File Manager (RFM) feature of ATMeye.iQᴺᴳ allows remote access and management of file systems on more than 5 000 devices simultaneously. This is especially valuable for banks that have self-service devices located far away from branches, as it enables remote uploading, downloading, and running of files.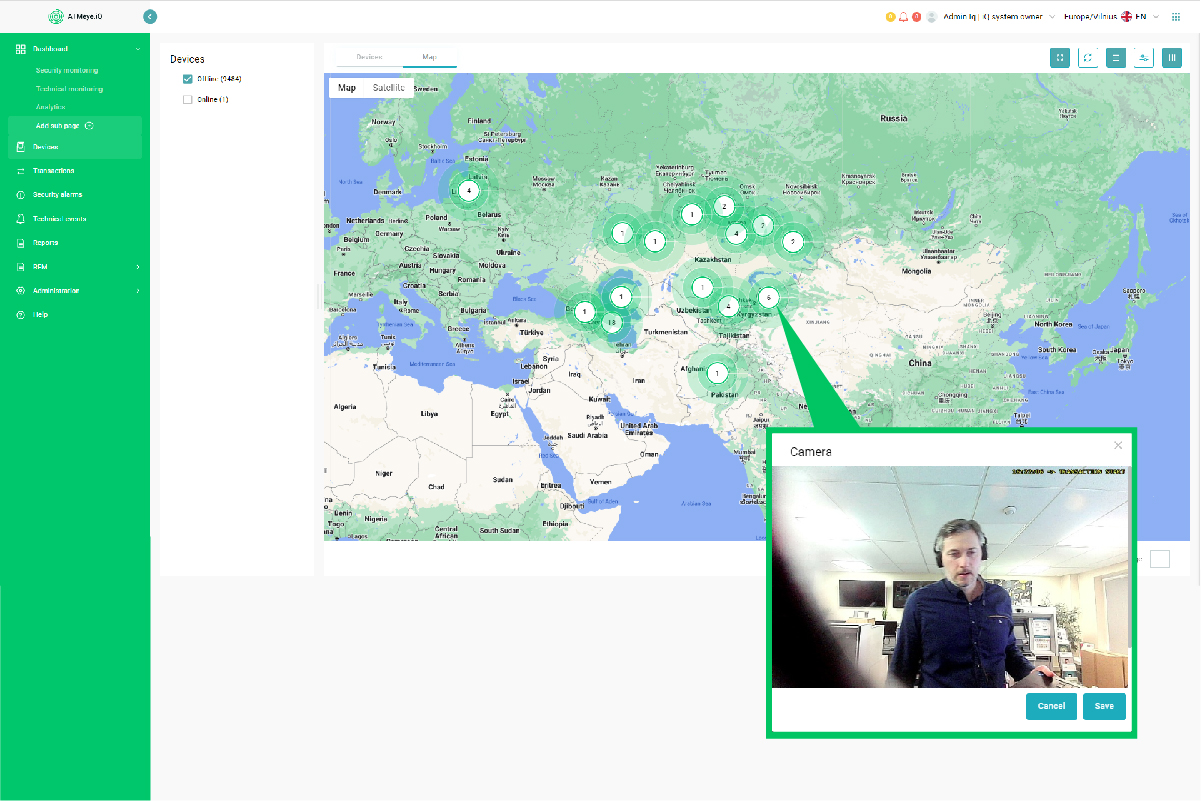 For instance, if a bank has several hundred ATMs installed in different parts of the country but all connected to ATMeye.iQᴺᴳ, a technical specialist can manage files and folders from the office directly on each of these devices or group them using RFM. This streamlines and simplifies the process of managing files at ATMs, making it more efficient for the bank.
Advanced Software Security
The ATMeye.iQ meets all modern security requirements with its New Generation software. The solution provides flexible access to the system at various levels. This allows its users to create groups based on their permissions and provides access to specific devices, such as those located in a specific city.
All users' actions are recorded, making it easy to identify if data has been added or deleted.
Data transfer is encrypted at all stages using an SSL certificate. With TLS protocols, data transmission is secure and confidential.
Optimized ATM Data Storage
The ATM's 10 GB HDD disk stores photo and video information about approximately 110 000 – 120 000 transactions. A reconstruction of one event requires on average 7 photos, so the ATM's disk should contain 770 000 – 840 000 images, which is a great deal. ATMeye.iQᴺᴳ optimizes storage capacity by automatically transferring data from the drive to the server when the device reaches maximum capacity.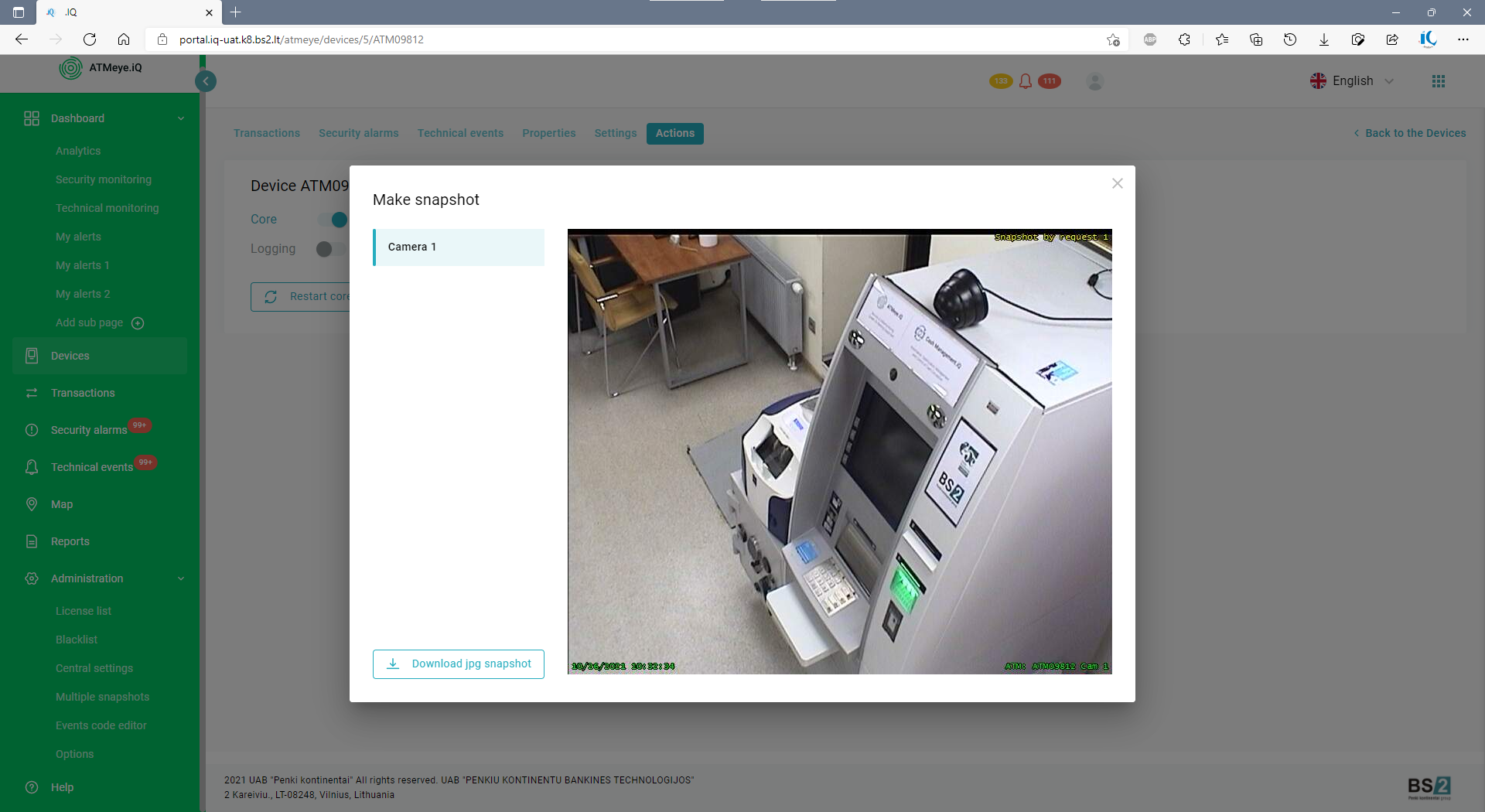 Additionally, the system automatically synchronizes selected ATM directories with the server. It allows storing not only photos and videos but also ATM log files.
Synchronization can be scheduled for off-hours to avoid network overload during work time.
Device Monitoring in Real-Time
The latest version of ATMeye.iQᴺᴳ offers banks a range of tools to collect and analyze data from multiple sources, including sensors, cameras, and ATMs.
With an intuitive dashboard, managers can easily customize widgets and charts to display data. This includes security events, technical issues, and transaction information for a selected region or the entire fleet over a given period.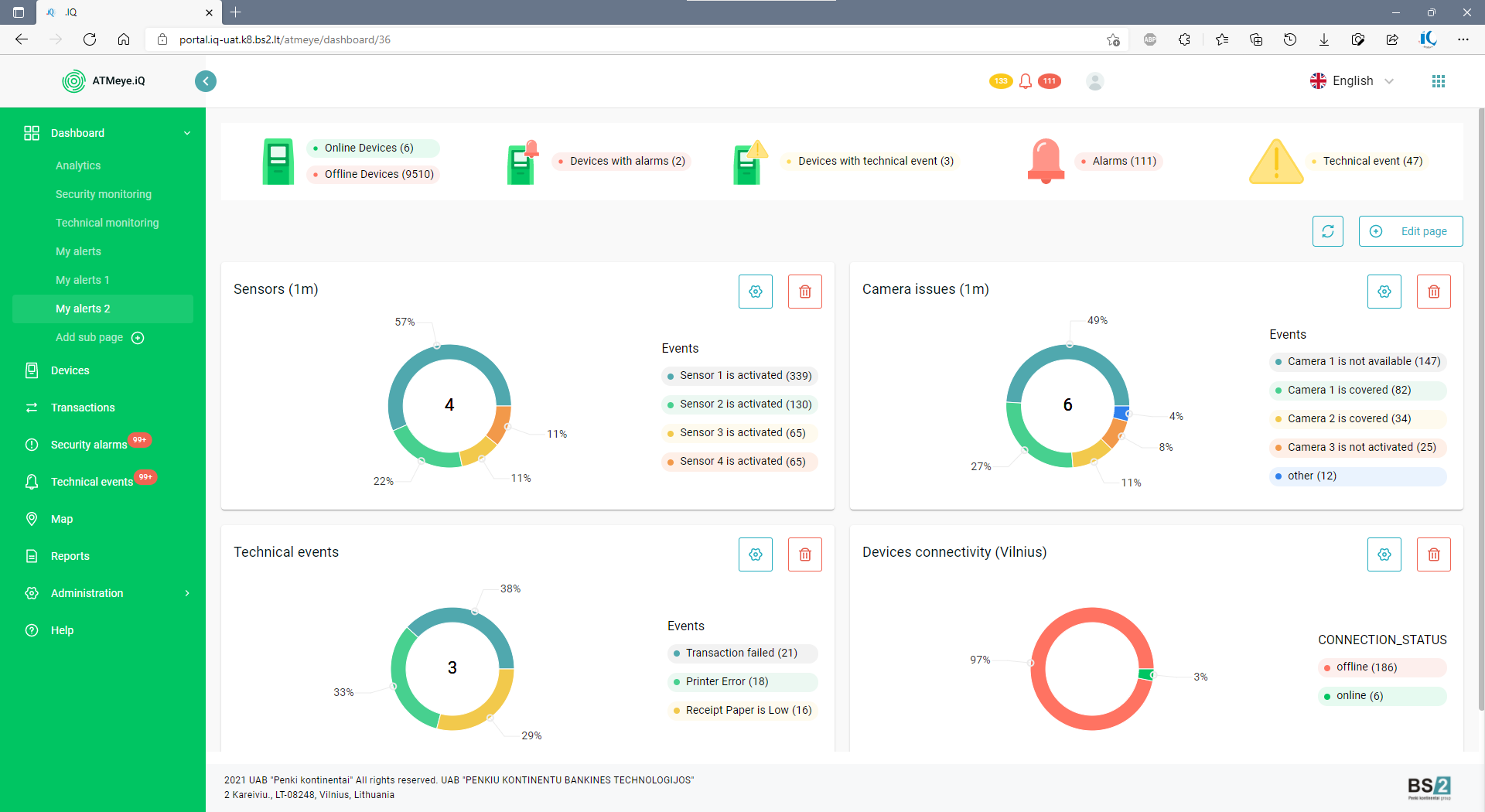 In addition, the updated version allows sharing customized widgets with colleagues in the system. The advantage of a convenient dashboard is the ability to instantly view the entire fleet of devices.
Thanks to device monitoring and convenient data collection, security officers, technical support specialists, and dispute managers can generate reports easily depending on the time of day, ATM model, message type, cities, etc.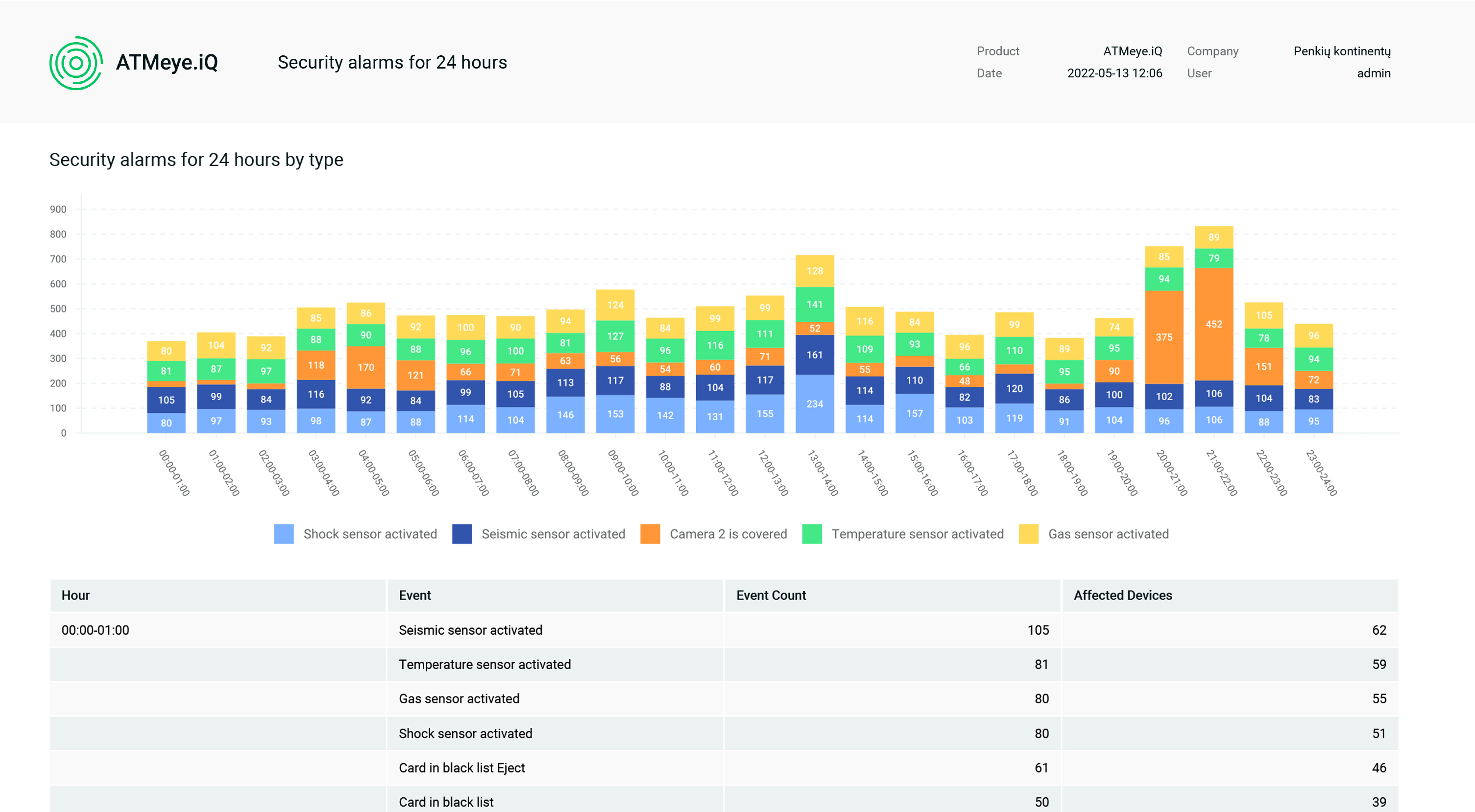 Remote screen viewing
In work mode, an ATM displays user interface elements and advertising banners. However, unintended information may appear due to a malfunction.
This can be a challenge for the IT department, as the monitoring systems may not show any errors even when transactions fail to process.
Remote access to the ATM screen can help diagnose bugs, such as if an unknown notification disorients customers or if the ATM freezes. Traditional ATM monitoring methods may not identify issues with self-service devices, leading customers to turn to bank's competitors when serviceable ATMs fail to perform their functions.
However, with ATMeye.iQᴺᴳ, viewing and processing screen information on ATMs in real-time is easy, and remote rebooting the self-service device may resolve the problem.
Check out the detailed description of ATMeye.iQᴺᴳ to learn more about the full scope of the software's advantages!
Feature Comparison: ATMeye.iQ vs ATMeye.iQ New Generation
ATMeye.iQ Version Comparison
ATMeye.iQ
ATMeye.iQ New Generation
Dispute Resolutions with Customers
Сustomer actions
Photo and video recording of each transaction step on any installed camera
Detailed information
All conducted transaction information is saved, including the date, time, and event type (PIN entry, cash withdrawal, card acceptance, etc.)
Flexible reports
The generation of transaction reports with photo and video attached
partially
Device Monitoring
ATM locations
The display of devices and their statuses on a map with coordinates
Device status
Online checkup of connected devices
Data visualization
Detailed information about each device in form of bar charts and pie charts: transactions, security events, technical events
Search
Filtering and sorting by specified parameters: cities, device types, online/offline statuses, etc.
Widgets
Creating, editing, and saving interactive dashboard elements
Widgets subscription
Sharing widgets created by different users of the system
ATMeye. iQᴺᴳ Server Management
Free disk space monitoring
Optimizing disk space usage on server
Disk space management strategy
•Data retention for a specified period
•Keeping certain amount of free space
•Subsequent clearing out
Health-monitoring
Analyzing each ATMeye.iQᴺᴳ component's performance
Remote ATMeye.iQᴺᴳ updates from the server
partially
ATM Maintenance
Access to specified directories
View, copy, modify, or delete files remotely
partially
Synchronization of selected directories with the server
Adjustable synchronization time
Remote launch of .bat files on ATMs
File management for group of devices
Task Scheduler
Event notifications
Security and technical notifications about events by Email and Telegram
Remote screen viewing
Photo and Video Management on ATM
Automatic data upload to the server
Uploading of photo / video materials to the server automatically at a specified time
ATM free space management
Files are automatically deleted when limits are reached or when they are uploaded successfully
Security
Sensors
Connect a wide range of sensors (shock, drilling, gas, temperature)
Cameras
Use of internal ATM cameras and bank branches external cameras (24/7 zones)
Alerts
Instant notification when sensors are triggered
Reaction to camera closing
Automatic photo / video recording from the external camera when the front camera is closed
Data transfer to the server
Immediate transmission of photo and video recording when sensors are triggered
Pre-recording
Photo and video pre-recordings for any type of message (transaction start, camera close, card is forgotten, etc.)
Security Event Reporting
Data sorting and filtering by cities, time of day, ATM model, etc.
Speed of response
Monitoring of staff reactions to security incidents
partially
Traffic encryption
Ability to use SSL certificates
Configurable access rights
Customizing access levels, defining roles, and grouping users
partially
Activity log
Tracking the user's actions
Technologies
Web application
Secure access to the system through a web browser
Flexible software installation
Possibility to implement ATMeye. iQᴺᴳ on both local and cloud servers (Google, Amazon, etc.)
Multi-brand ATM compatibility
Diebold Nixdorf, NCR, Hyosung
Support different types of cameras
Default cameras from manufacturers (Diebold Nixdorf, NCR, Hyosung), along with Web, IP cameras, and DVR system
Ready to see the ATMeye.iQᴺᴳ system in action? Sign up for a product demo by clicking the link.