Imagine immediate access to your ATM monitor via the computer in real-time. The advanced feature of ATMeye.iQ New Generation could help you detect errors displayed on the cash machine screen without a direct visit.

Remote Screen Viewing can be used to determine the ATM status (in-service/out-of-service) and verify whether the displayed information matches the downloaded files such as advertising images. For banks that operate ATMs across multiple locations, this feature is crucial without other monitoring tools.
Remote Screen Viewing for Rapid Customer Support
Bank employees can use the remote screen viewing feature to instantly process customer requests, especially when an ATM screen displays an error message. Even though all transactions have been completed successfully, it may be unclear what exactly occurred. Sometimes, users may mistakenly think that a self-service device is not functioning properly when unexpected windows (i.g., antivirus windows) appear on the screen.
Without ATMeye.iQᴺᴳ, bank specialists would need to inspect an ATM physically. Meanwhile, dissatisfied customers complain about a failed deal.
ATMeye.iQᴺᴳ helps bank employees find out why customers request assistance – without visiting an ATM on-site. With Remote Screen Viewing, bank staff detects error messages on displays remotely and saves the company's time and resources.
The newly developed tool makes it easier to view ATM screens and rapidly appraise the situation. In many cases, a simple ATM reboot can fix a problem.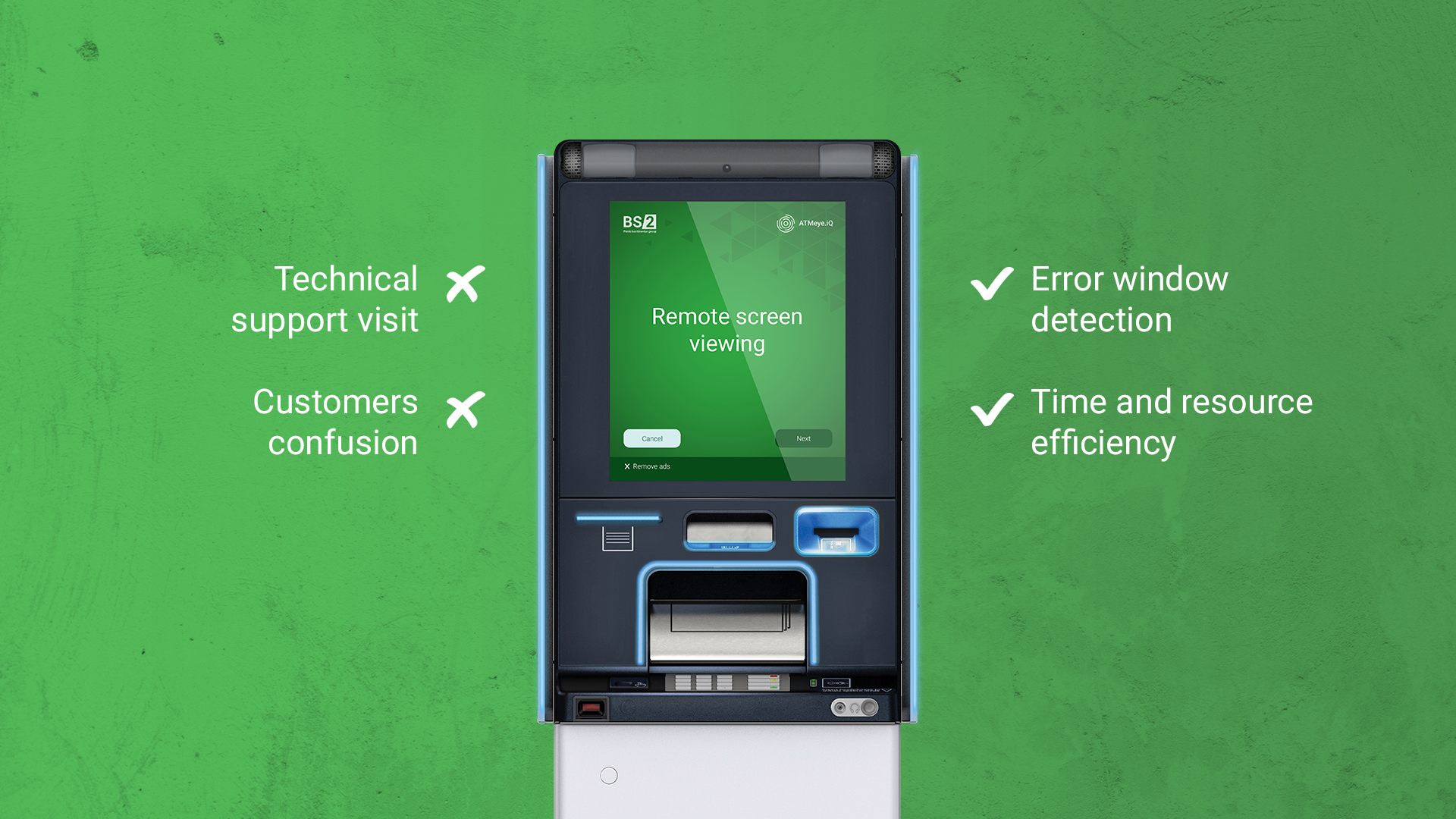 View the ATM Screen to Ensure Optimal Performance
Remote screen viewing can be used to identify "error windows" on ATMs as well as to check the normal operation of devices.
With this function, bank employees can effortlessly:
keep an eye on all events at the ATM screen in real time
verify the correct display of advertisements
ATMeye.iQᴺᴳ enables remote ATM screen viewing with quick incident response capabilities. The user-friendly interface of the system and the ability to access the program via a web browser make it useful not only for technical staff but also for other bank specialists.
Follow the link below to learn more about the latest updates to the dispute resolution and security system.