A new generation of ATMeye.iQ software solution simplifies transaction searches and significantly speeds up dispute resolutions.
Customers most frequently contact the bank's support service regarding cash withdrawal transactions. Trying to figure out why the client received less cash or took more than requested can be a real detective's investigation. Customer claims are not always justified. Some users accidentally leave cash at the ATM, while others deliberately try to hide the real facts. All these actions are easy to track through the security and dispute resolution system ATMeye.iQ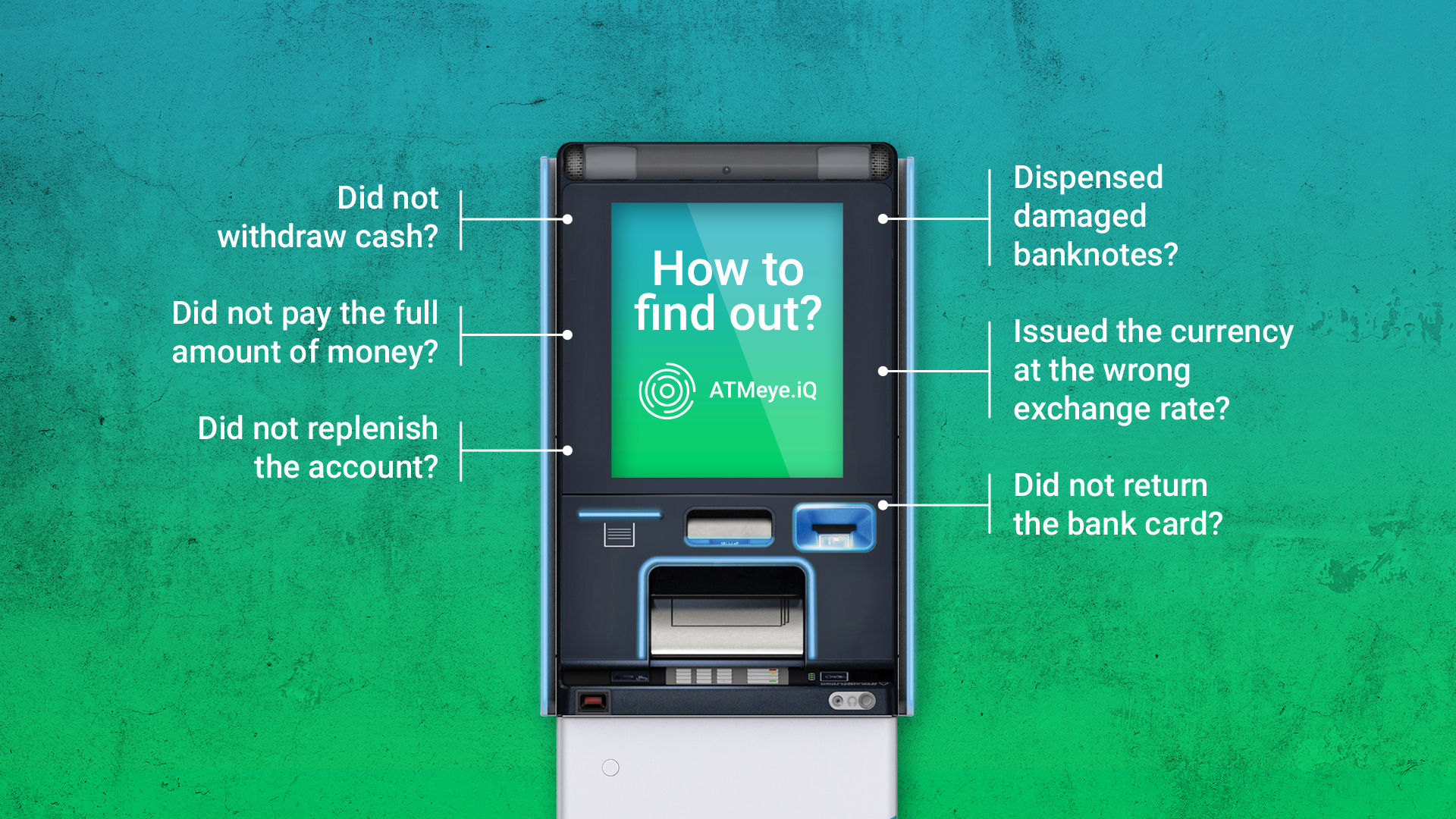 Before using ATMeye.iQ 

 
Banks constantly face surpluses and shortages that arise on self-service devices. Even after collecting funds, it is not always possible to resolve a disputable situation without the appropriate software. The dispute analysis becomes more complicated if multiple clients make claims simultaneously during one cycle of the device operation. It is not easy to understand the situation without analyzing transactions, viewing device logs, photos, and video materials, and almost impossible in some cases. Particularly, if there is a time difference between the device, the video recorder, and the processing.   
The ATMeye.iQ solution offers holistic views of transactions, device logs, and recording video surveillance (including external cameras). These tools help consider controversial situations, without turning the dispute analysis into a detective investigation.
ATMeye.iQ New Generation solves disputes faster  

 
ATMeye.iQ functionality greatly facilitates the work of bank employees in dealing with disputes. The new web interface of ATMeye.iQ has a highly customizable convenient dashboard and allows monitoring of the whole fleet of devices.
The operator needs only enter a masked card number on the panel, the device ID, or the time of the transaction in the program, and the screen will display all actual data in one minute:   
Photos and videos from the event (ATM cameras and external cameras) 

Date and time of a specific transaction

ATM location address (including a map) 

The event name (entering a PIN code, receiving funds, receiving a card, starting a transaction, etc.) 
The analysis of client requests becomes simple and transparent when all data can be obtained quickly using a single software, such as ATMeye.iQ's new generation solution. Additionally, the high speed of dispute resolution positively affects the image of the financial organization. When the bank confidently resolves disputes, it demonstrates clearly organized processes, and clients are assured of the bank's credibility. And what could be more important than customers who trust their bank?